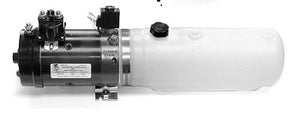 4400871 Thieman Power Up Gravity Down Power Unit
Thieman 4400871 Power Up and Gravity Down Power Unit. 
Drop-in, push button replacement power unit.
Top discharge and bottom mounting.
Overall 7.5 in. x 8 in. x 23.25 in.
Poly reservoir 3 quart 4.5 in. x 13 in. 
Tang motor regular duty
Includes poly reservoir, start solenoid, 12 volt motor, manifold, drain valve and pump.