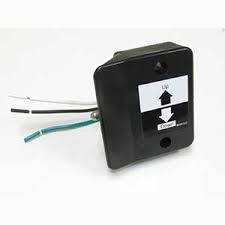 80000844 Waltco 3-Wire molded Toggle Switch
Waltco 80000844 replacement 3-wire toggle start switch .  Up/Down with protected toggle switch.   Waterproof molded plastic resin.  UP and DOWN clearly visible.  Proprietary sleek molded water resistant design. 

Replaces former Waltco Super Switch - 2 button magnetic start switch and former Up/Down lever switch.  They are NO longer manufactured.