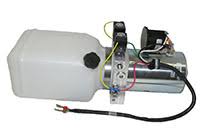 A130117 Anthony Power Up and Down Power Unit
Anthony A130117 Power Up and Power Down Push Button Power Unit.  
Poly reservoir 1 gallon 5.5 in. x 6.5 in. x 10 in. 
Includes 1 gallon poly reservoir, start solenoid, 12 volt motor, manifold, drain valves and pump. 
 This power unit requires 3-4 days lead time to assemble from component parts before shipping.   Please recognize this slight delay to our 'ship today' policy.