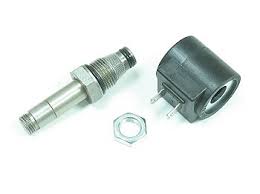 AMF3331 2-Way Drain Valve with 2-terminal coil
2-Way drain valve with 2-terminal solenoid coil.  Replaces:
Specifications are:
Combines AMF3338 +AMF3346,
Coil Length -- 1-1/2 inches,
Coil Diameter -- 1/2 inch,
Valve Length -- 3 inches,
Valve Stem Diameter -- 1/2 inch.   
For control of hydraulic fluid from manifold of liftgate power unit. Valve and Coil are available separately.