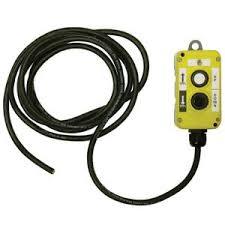 BPL2871 Weatherproof 16/3 Remote Control - Straight Cord
Weatherproof remote control wired with 16/3 cord.   Cord length 10 feet.  Weatherproof seals and 2 mercury glide push buttons. Used with power up, gravity down liftgate models.  Rugged ABS yellow plastic. Can be mounted. 

BPL2876 is the weatherproof 16/4 remote control with straight cord used with power up, power down liftgate models.