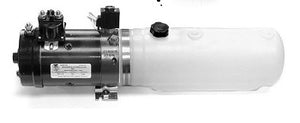 BPP0019-6 Power Up and Gravity Down Power Unit
Power Up/Gravity Down Push Button Power Unit. 
Top discharge and bottom mounting.
Overall 7.5" H x 5.5" W x 21" L.
Poly reservoir 3 quart 4.5 in. x 13 in.
Tang motor
Includes poly reservoir, start solenoid, 12 volt motor, manifold, drain valve and pump.