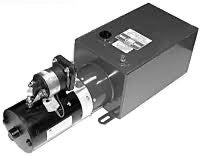 BPP0019M Power Up and Gravity Down Power Unit - heavy duty
Power Up/Gravity Down Push Button Heavy Duty Power Unit for dump bodies. 
3600 psi.
Metal Reservoir  6.25 in. x 7.25 in. x 12 in.  4 tabs on 5" centers

2-button Control 6 feet with deutsch plug
Includes metal reservoir, start solenoid, 12 volt motor, manifold, drain valve, pump and hand control.   3-5 days build and ship time.