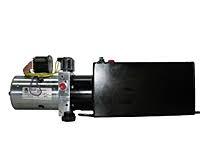 BPP0043 Power Up and Down Power Unit - heavy duty
Power Up/Power Down Push Button Heavy Duty Power Unit for dump bodies.
Overall 7-1/2 in. x 8 in. x 22 in.
Metal Reservoir 2.21 gallon, 6 in. x 7 in. x 15 in. (BPP3150).
Weatherproof remote control with 2 push buttons (BPL2876).
Includes 2-1/2 gallon metal reservoir, start solenoid, 12 volt motor, manifold, drain valves, pump and hand control.  
Also available with smaller 1.75 gallon steel reservoir or 3.10 gallon steel reservoir.   Ask for revised pricing.