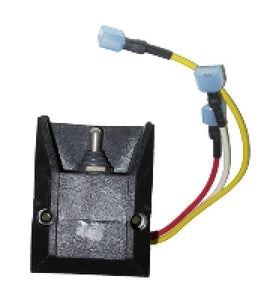 NLM4346 3-wire molded Toggle Switch
 3-wire toggle switch assembly.     Replaces Maxon 264346, 267959-01.  

Molded water resistant with 9 inch leads.  Mounts to truck frame with 2 screws.  Quick disconnect with heat shrink.
Yellow = Black is Down, White is Up, Red = Green is 12 Volt power connection.   Only difference in Maxon part numbers is wire color.